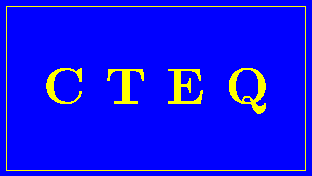 The Coordinated Theoretical-Experimental Project on QCD
---
CTEQ is a multi-institutional collaboration devoted to a broad program of research projects and cooperative enterprises in high-energy physics centered on Quantum Chromodynamics (QCD) and its implications in all areas of the Standard Model and beyond.

The Collaboration consists of theorists and experimentalists at 23 universities (Baylor, Florida State, Hampton, Illinois, Illinois Institute of Technology, Iowa State, Joseph Fourier, Karlsruhe, Michigan State, Muenster, Northwestern, Oregon, Penn State, Pittsburgh, Rochester, Southern Methodist, SUNY Buffalo, SUNY Stony Brook, Taipei, Tubingen, U.C. Riverside, Washington, Witwatersrand) and 6 national laboratories (Argonne, CERN, Fermilab, Jefferson, SLAC, IN2P3 [France]).

The Project's program includes:

The CTEQ research projects and the CTEQ Summer Workshop & Conference are supported by the National Science Foundation and the Department of Energy through grants to the universities and laboratories of CTEQ members.


We are pleased to announce the establishment of the Wu-Ki Tung Award for Early-Career Research on QCD. The Wu-Ki Tung award is to recognize outstanding contributions made by early-career physicists on experimental or theoretical research on Quantum Chromodynamics. The award will be given annually and will consist of a certificate citing the contributions of the recipient and support for travel to a CTEQ Summer School to deliver an invited lecture. Nominees must have received a Ph.D. in experimental or theoretical particle physics within the last seven years, excluding any career breaks, by the time of nomination.
Instructions to donate to Tung Fellowship Award Fund via MSU







MC4EIC 2022 workshop on Monte Carlo event simulation for the EIC, is organized by the CTEQ collaboration, the EIC User Group, the HEP Software Foundation (HSF), and MCnet
2022 Spring CTEQ meeting [virtual]: 3/21, 10 am - 1 pm EDT (business meeting) and 3/22, 10 am - 1 pm EDT (physics meeting) <!a href="">[indico link coming soon.]
MC4EIC: Monte Carlo event simulation for the EIC (18-19 November 2021) https://indico.bnl.gov/event/13298/overview
2019 FALL CTEQ MEETING: (Sept 27-28) Gull Lake, MI https://indico.cern.ch/event/827803/
Parton Distributions and Lattice Calculations (PDFLattice2019) https://indico.cern.ch/event/804857/
"Parton distributions as a bridge from low to high energies" 8-10 November 2018, JLab, Newport News, VA indico
Joint CTEQ Meeting and POETIC 7 - 14-18 Nov. 2016
Proton Structure in the LHC Era - School and Workshop - from 29 September 2014 to 02 October 2014 (Europe/Berlin) DESY Hamburg
Workshop on QCD Tools for LHC Physics: From 8 to 14 TeV "What's needed and why?" - 14-15 November, 2013 Fermilab, Batavia, Illinois, USA
CTEQ Collaboration Meeting: November 15-17, 2012, Thomas Jefferson National Accelerator Facility, Newport News, VA
Confronting Theory with Experiment: Puzzles, Challenges and Opportunities in the LHC Era at Fermilab 17-18 November 2011
Standard Model Benchmarks at the Tevatron and LHC, 19-20 November 2010, Fermilab
Higgs Physics at the Tevatron and LHC: the QCD Issues, 19 November 2009, Fermilab
Physics at the LHC: Early Challenges, 14-15 May 2007, Kellogg Biological Station, Michigan State University
ANL meeting/workshop, May 2006
Jefferson Lab CTEQ Meeting Physics Session, November 2005
Joint CTEQ/CDF/D0 Workshop on W/Z Physics Fermilab, 22 April 2005
Fermilab CTEQ Meeting Physics Session, October 2004
MSU CTEQ Meeting Physics Session, October 2003
Co-sponsor of 1999 "QCD and Weak Boson Physics workshop in preparation for Run II at the Fermilab Tevatron"
The Pheno-CTEQ Symposium 1998 - Frontiers of Phenomenology: From Non-Perturbative QCD to New Physics : 23 - 26 March 1998; Madison
Fall 1996 Confronting QCD with Experiment: Puzzles and Challenges : 7 - 9 November; Fermilab
Spring 1996 Top Quark Production and Mass Determination: 4 - 5 April; Fermilab
1995 Collider Physics: 27 - 28 October; Michigan State University
1994 Up and Down Quarks, Drell-Yan, and W Production: 13 May; Fermilab
1993 QCD2TEV: 29 - 30 October; Michigan State University
2022 CTEQ Summer School: 6 - 16 July 2022; Pittsburgh, PA, USA
2021 MCnet-CTEQ Summer School: planned for 5-15 September 2021, Rathen, Dresden, Germany.
2020 MCnet-CTEQ Summer School: Unfortunately due to the COVID-19 virus it was necessary to cancel the 2020 MCnet-CTEQ school.
2019 CTEQ Summer School: 16 - 26 July 2019; Pittsburgh, PA, USA
2018 CTEQ Summer School: 18 - 28 June 2018; Mayaguez, Puerto Rico, USA
2017 CTEQ Summer School: 18 - 28 July; Pittsburgh, PA, USA
2016 DESY-MCnet-CTEQ Summer School: 6 - 16 July; Hamburg, Germany
2015 CTEQ Summer School: 7 - 17 July; Pittsburgh, PA, USA
2014 CTEQ Summer School: 8 - 18 July; Peking University, Beijing
2013 CTEQ Summer School: 7 - 17 July; University of Pittsburgh, PA, USA
2012 CTEQ Summer School: 30 July - 9 August; Lima, Peru

2011 CTEQ Summer School: 10 - 20 July; Madison, Wisconsin, USA

2010 CTEQ-MCnet Summer School: 26 July - 4 August; Lauterbad (Black Forest), Germany (local copy)

2009 CTEQ Summer School: 24 June - 2 July; Madison, Wisconsin, USA

2008 CTEQ-MCnet Summer School: 8 - 16 August; Debrecen, Hungary

2007 CTEQ Summer School: 30 May - 7 June; Madison, Wisconsin, USA

2006 CTEQ Summer School: 1 - 9 July; Rhodes, Greece

2005 CTEQ Summer School: 19 - 27 May; Puebla, Mexico

2004 CTEQ Summer School: 22 - 30 June; University of Wisconsin at Madison, USA

2003 CTEQ Summer School: 22 - 30 May; Sant Feliu de Guixols, Catalonia, Spain

2002 CTEQ Summer School: 2 - 10 June; University of Wisconsin at Madison, USA

2001 CTEQ Summer School: 17 - 26 June; St. Andrews, Scotland

2000 CTEQ Summer School: 30 May - 7 June; Lake Geneva, Wisconsin, USA
1998 CTEQ Summer School: 8-16 July 1998; Courmayeur, Aosta Valley, Italy
1997 CTEQ Summer School: 27 May - 4 June; Lake Como, Wisconsin, USA
1995 CTEQ-DESY Summer School: 17 July - 25 July; Bad Lauterberg, Germany
1994 CTEQ Summer School: 10 August - 18 August; Lake Ozark, Missouri, USA
1993 CTEQ Summer School: 25 July - 3 August; Lake Monroe, Indiana, USA
1992 CTEQ Summer School: 27 May - 3 June; Mackinac Island, Michigan, USA
CTEQ PDFs
CT18 parton distribution functions
ManeParse version 1.0 ManeParse is a modular Mathematica package that provides access to PDFs for hadronic calculations. It allows for parsing of .pds and LHAPDF6 files and estimates PDF errors for Hessian and MC releases.
nCTEQ - Nuclear Parton Distribution Functions
<!a href="http://www.pa.msu.edu/hep/cteq/cteq6/"> <!a href="http://user.pa.msu.edu/wkt/cteq/cteq6/cteq6pdf.html"> <!a href="http://hep.pa.msu.edu/people/wkt/cteq6/cteq6pdf.html"> CTEQ6 Fortran source

PDFLIB-like Fortran routine courtesy of Steve Kuhlmann
Fortran source - Parametrized PDFs

Two sets of the most commonly used CTEQ5 distributions are now also given in parametrized function form, which do not need any external data files. They are CTEQ5M1 and CTEQ5L.

For details, see comment lines in the respective fortran files.

Fortran source - QCD Evolution
Mathematica notebooks
Other PDFs and FFs
Miscellaneous
---
The URL of this page is http://cteq.org
Send comments and corrections to: Randall J. Scalise <scalise@smu.edu>
Last modified: Tue Mar 16 21:05:17 CDT 2021